It's Valentine's day tomorrow.
Last year I received this mega bouquet from Marty, what a cutie. Back then I was working at R/GA, my team and I sat just behind reception and we saw a stream of couriers arrive throughout the day with bouquets for the various ladies. Then this one came, and I didn't bother looking up until he said
"Is there a Ahh..ye..sha?"
And I snapped up. I saw the bouquet. I heart skipped a beat and immediately I had tears in my eyes.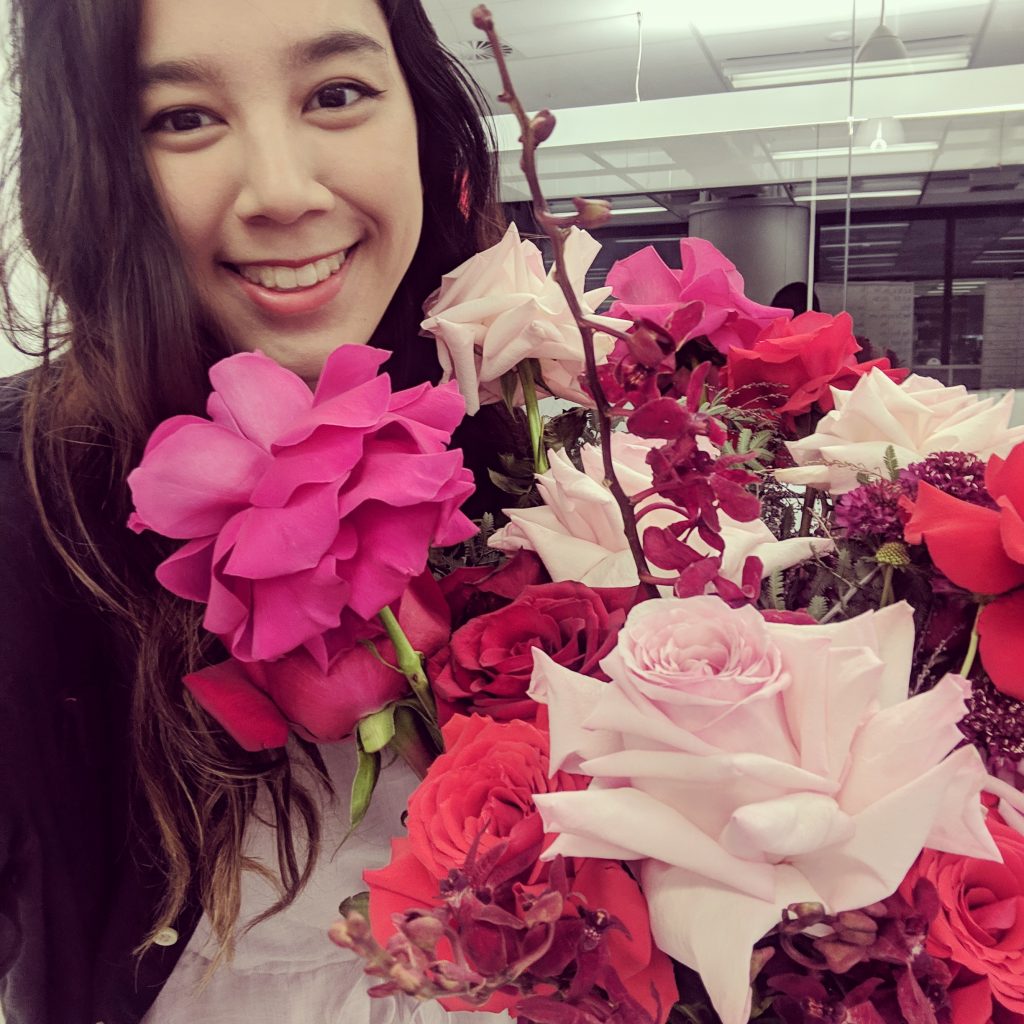 This year, I've just accepted a new job and will be starting soon, so no bouquet will be delivered to an office :p
Anyway, I just wanted to write what's been happening this year, this decade so far.
I've finished my first book of the year – Kafka on the Shore by Murakami and I'm now midway through Michelle Obama's Becoming. I've decided I'll alternate between fiction and non-fiction this year. Kafka was a really interesting book and very timely I should say because I have been feeling like a lost little lamb at the start of this year, wondering what to do. The story was rather random but I imagine the author must have gone through something similar in his life to be able to write a story like that. I've faced so many decisions and dilemmas and it really makes me wonder how I've avoided awkward situations or difficult crossroads for so long in my life. It could also be that as I'm getting older I'm more wary of things, I'm more picky about things and that's making decisions harder each time. The pros and cons are more severe and I actually have to think about what I'm sacrificing each time. Sometimes I feel impulsive like Kafka, like something is just pulling me, I treat every random occurrence like a sign; sometimes I feel like Nakata, that I have this overarching mission in life and everything that happens to me, spontaneous or planned, will eventually guide me there.
I've played through Pokemon Shield – what a fun little game, though I found it slightly more challenging than other Pokemon games, or maybe I just have lesser patience for grinding these days. I really liked the gym leaders' battle music and wished they used it more but I only got to hear it 8 times :c Now I'm watching Marty play Star Wars Jedi: Fallen Order. Oh yes, we finally did our last bit of moving last weekend and have a fridge, washing machine and our PS4 set up 😀 I'm enjoying backseat driving like "Hmm.. let's climb that vine.. I think you should go talk to that NPC.. nah jump off this cliff and see where you go" without having to remember all the controls to execute hehehe.
Speaking of last weekend.. Sydney (well most of Australia) experienced torrential rain for almost a full week. Boy, it was relentless! The good thing is I got to wear my knee-high boots that week and I had fun stepping into puddles without worry. However the rest of Australia did not have such a happy week as lots of places have flooded and property damaged, families displaced. It's really been a wild start to the year for Australia, this coming just after the devastating bushfires. I suppose on the plus side one of the larger and difficult to contain fires that was burning for I think it was 74 days was finally extinguished and the dam levels have risen quite significantly.
I love Australia and it hurts to see so much of the countryside destroyed, but I'm sure it'll all recover and beauty will be restored.
Aside from these natural disasters, the world is now tackling the fast-spreading Coronavirus (COVID-19). Flights are being cancelled, people flying in are being told to self-quarantine for 14 days, global events are being cancelled, university students returning are worried about being asked to stay home, I even saw a poor student was rudely evicted from her rental place upon returning from a trip home to Malaysia. Honestly, I have no clue what I'd do in that situation especially if it was during my first year in uni, I was so useless back then. It feels like there's too much fear and paranoia around people and some are acting horribly and unreasonably. I've seen on my social media how people in Singapore are hoarding items and clearing out supermarkets. There are (at point of writing) 50 cases in Singapore for a population of over 5.5 million with 15 recoveries made. I know it's scary and it can spread quickly, but really I think people need to just watch their hygiene rather than conduct such rude behaviour.
On a happier and as an ending note, my brother and his family (yes that means his two babies!) are visiting me tomorrow, so now I can celebrate this day of love with more people! 😀 I'm also super happy, it's the first time they're coming to Australia since I came here in 2012!
*happy dance time