It's February.
January seemed slow, except for the action-packed days spent in Melbourne!
The 4 days went something like this:
Wake up between 9-10am
Consult list of good coffee places, debate which is better, go to Market Lane coffee anyway at 10:30am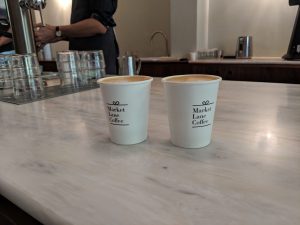 Walk down Kia Drive to Melbourne Park
Sit in Rod Laver Arena from 11am – 12am, glued to the court
Rave about how good the tennis was and make promises to myself to train up as soon as I get back to Sydney. Mull over how life as a tennis pro would be if I had picked up tennis at age 3 + my parents had supported it.
Go to sleep around 1am feeling sad, confused but also motivated.
Repeat
AO Day 3 – 17 Jan 2018

We arrived in the middle of a women's match, K. Siniakova vs. E.Svitolina. I was so excited to see female pros live in front of me. I hadn't really seen how pro females play and while I had watched Marty play at his competitions the players were usually male, and everyone knows Mens tennis is a completely different game.
It was there and then I found BEST GIRL, Elina Svitolina became my instant favourite.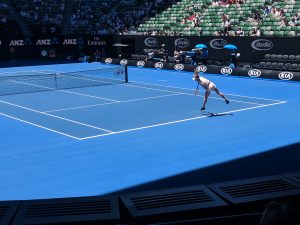 She destroyed her opponent and we watched the next match, J.Fett vs C.Wozniacki.
This was probably the most impressive match I watched while at the Australian Open.
Wozniacki (was ranked no.2 at the time, now no.1!) was down match point 5-1, 40-15 in the 3rd set and miraculously fought her way back to win 7-5. HOLY MOLY. I can't imagine how nervous Fett was, it would have been a major major upset for rank 119 to upset rank 2, imagine how high she would have propelled!
The 3rd afternoon match was our first look at tennis royalty, world no. 1 Rrrrafael Nadal. (I can't purr to save my life)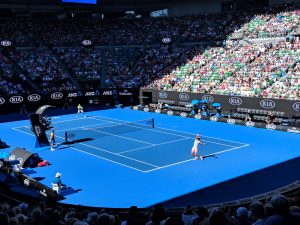 He breezed through the match, but I got to see the sheer difference in womens and mens tennis, and also the two different play styles within a mens game – The super fast ace down the centre line vs the slower spinny game that Nadal is so famous for.
Day 1 was incredible, but it didn't stop there. I then found BEST BOY, the one I never thought I would pay attention to. The schedule said G.Dimitrov vs M.McDonald, so naturally I was like Oh! Another top player's coming on, rank no. 3! I'm so lucky!
I was blown away, completely blown away, by young Mackenzie McDonald aka MacMac!
He put up an incredible fight against Dimitrov and took it to 5 sets, evening delivering a bagel in the 4th set, 6-0 and was finally put away in a tiebreaker after 3 hours and 25 minutes of play.
So here, in Rod Laver Arena, on 17th of January 2018, I found my 2 tennis favourites – Elina Svitolina and Mackenzie McDonald.
Day 1 ended with meeting Katie, Michael and their buddy for dinner :3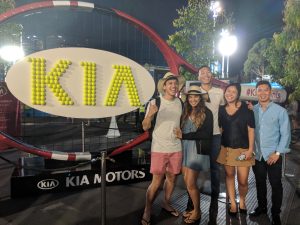 AO Day 4 – 18 Jan 2018
Prior to attending the AO, I had only thought about seeing Sharapova, I hadn't thought any player would interest me as much as her. I just so damn excited to hear her grunts IRL.
And so I did.
It was honestly quite a lot louder than the other grunts, I really wonder how much more power it gives her.
The womens' match after that starred the oldest female player S.Hsieh who was quite interesting to watch. She had a two-handed forehand and backhand and was former no.1 in doubles. Her net plays were much more about the angled shots rather than smashes which was refreshing but sometimes AGGHHH JUST SMASH IT GIRL.
Then came the controversial N.Djokovic vs G.Monfils match where the temperature hit a top of 39 degrees with the court temperature edging towards an unthinkable 70 degrees.
I was sitting in the shade, just sitting, but I was sweating profusely.
It was agonizing watched Monfils play. It felt inhumane.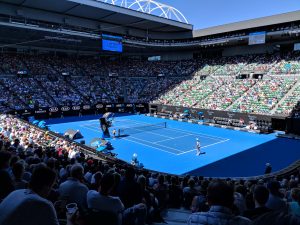 I would really like to watch him play again, in more bearable conditions 🙂
That night ended with watching the GOAT!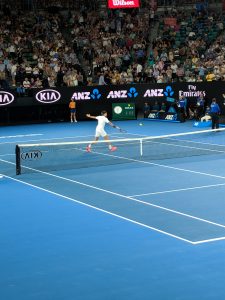 Needless to say, he was very aggressive in his hits but very classy as soon as the match was over.
AO Day 5 – 19 Jan 2018
On the 3rd day, I got to see Best Girl E.Svitolina again! 😀 This time she was against a fellow Ukrainian, 15 year old M.Kostyuk. The young player had a very enthusiastic cheer squad in her box but sadly while brimming with talent, she was far too unpolished. We watched a "59minute tennis lesson" (Kostyuk said so herself).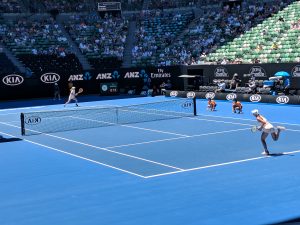 Day 3's night match was the liveliest match of the night matches I went to with Aussie's bad boy Nick Kyrgios against his idol J.Tsonga! Also Will Smith was in the audience XD.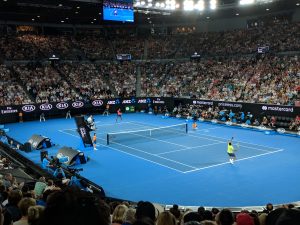 This match was a whirlwind of emotions, I had no clue who to root for and while the entire stadium seemed to chant for Kyrgios there was one very vocal lady behind us spurring Tsonga on the entire match.
I think I would have preferred if Tsonga took this one but alas maybe it was the home ground advantage that threw him off. There was brief instance where a member of the audience had yelled an insult at Tsonga, in French too, which agitated him to the point of him retaliating with "Come down here and fight me!", earning him a warning of unsportsmanlike conduct. Whoops.
C'mon people, have some respect for the game.
On our last day, AO Day 6 – 20 Jan 2018, we saw Sharapova and Federer again, although by then my excitement had died down and I was thinking about returning to Sydney the next day.
Goodbye AO 2018, it was a real good trip, see you in 2019!